Double Decker Depository Safe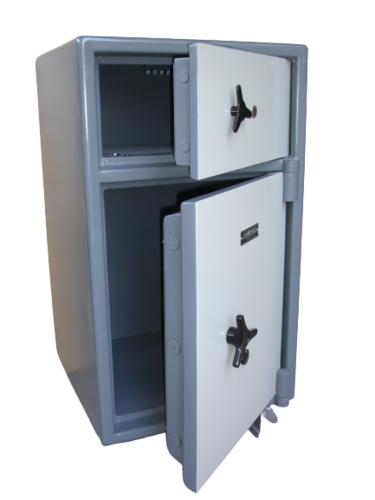 Double Decker Depository Safe
Product Code : 18
Brand Name : GUARDWEL INDUSTRIES
Double Decker Depository Safe

We manufacture and export a wide range of Double Decker Depository Safe. For designing these depository safes in compliance with current trends, we procure fine quality metals from certified vendors of the market. In order to meet the specific requirements of the clients, these depository safes are provided in different sizes and designs. Extensively used in banks, corporate offices and shops, Double Decker Depository Safe is ideal for keeping cash and important documents safe.
Features:
Rust proof finish
Ample of storage capacity
Security locks

Further Details:

At many places the need for security extends beyond normal working hours, late into the night. At such places like petrol pumps, collection centres, restaurants, railway stations, tollbooths, clubs, bus depots etc. cash transactions occur in large quantities and safety becomes a problem with thieves who rob at gun point. Decker Depository safe are designed specifically keeping these additional security features in mind. The keys to these safes do not remain with the attendants who manage them but with the owners or the managers-in-charge. Yet the attendants can deposit all the valuables, cash, important documents etc. into them either through lockable drawers or through the chute that can be provided. Besides the safes remain locked throughout and keys are inaccessible. These safes are available in various sizes and can also be designed specifically to suit the clients needs.