Double Door Safe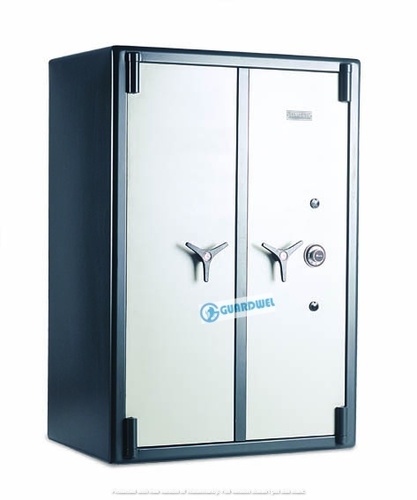 Double Door Safe
Product Code : 12
Brand Name : GUARDWEL INDUSTRIES
Double Door Safe

Leveraging on our quality centric mechanism, we are known to be the excellent manufacturer and exporter of an impeccable quality Double Door Safe. To meet the massive requirements of our customers, these door safes are offered in varied sizes and storage capacities. Ideal for keeping important documents safely, these safes are immensely demanded by offices, jewelry shops, banks and hotels. Embedded with excellent locking systems, Double Door Safe is delivered to our clients within specified time frame.
Features:
Sturdy construction
Fire-proof quality

Durability
Further Details:

Body:

The entire body of the Safe is made from thick steel plates with the latest steel bending techniques. Made of multiple bends with fully welded construction it forms a solid rivetless block. The inner lining is made from thicker steel plate than the outer body for enhanced security.

Door:

The door is constructed out of thick and tough steel plates, reinforced with a drill & hammer resistant hardened steel plate. It meshes tightly to the body when closed.

Locking Mechanism:

Operated by a pronged handle in front allowing fingers to fit in snugly and controlled by an eight lever dual control lock with evenly spaced shooting bolts to give a balanced pressure and ensure safety from dislodgement.

Option:

Can be fitted with Underwriters Laboratories INC (USA) rated mechanical or electronic combination lock. The combination locks are very well set which makes them unpickable through hand manipulation. The chances of hitting the right combination are I in a million.

Automatic Self-Locking Device:

The safe is also protected by an automatic self-locking device, which gets activated if the lock is dislodged by explosives or comes under attack by any other means. Which means that the door remains firmly shut and the valuables safe.